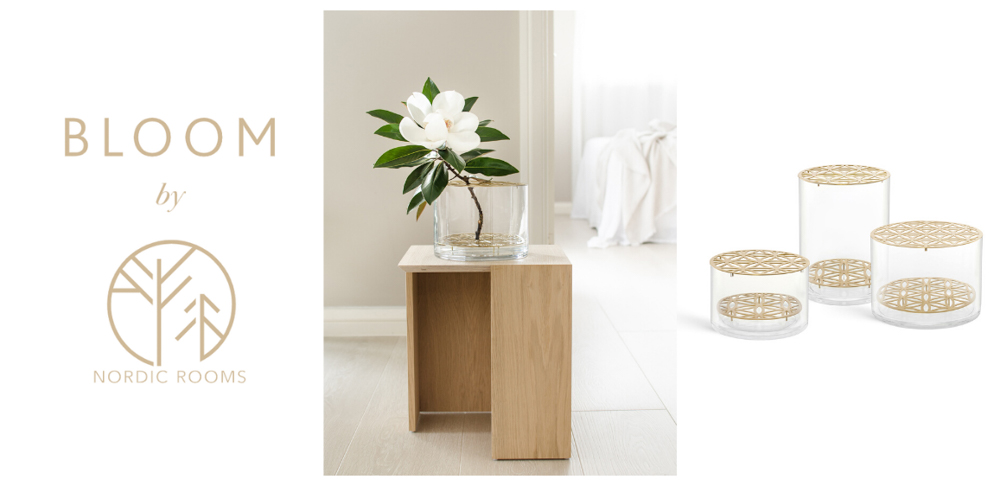 A well-designed, functional flower vase is a staple when it comes to home decorations. A beautiful vase can add instant charm and enhance the overall aesthetic of your interiors. Not just this, they are available in a plethora of variety when it comes to style and material.
When choosing the right vase for your home, a simple glass vase is always a safe choice. Graced with minimalism and subtle grace, glass vases are a prominent element of Scandinavian home decor and are highly valued by interior designers worldwide.
Nordic Rooms offers a Swedish designed, hand-crafted glass vase called Bloom in three sizes. These come with a brass cover and insert to give them a distinct appeal. Moreover, apart from being discerning, they are also extremely versatile.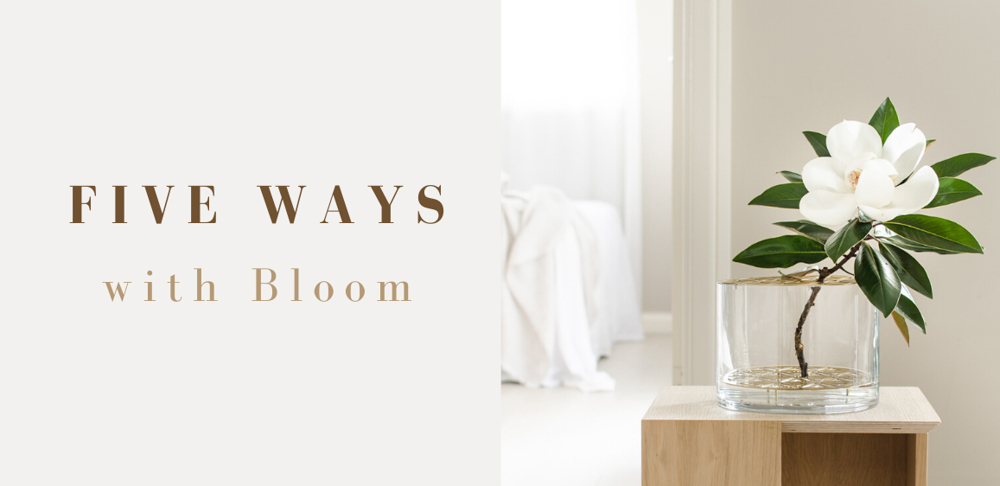 Glass vases reflect light in the best manner. These timeless pieces help flowers stay fresh for longer, as they allow sunlight to pass through the glass.
Below are five simple ways to use these beautiful statement pieces in your home.
Adding Beauty with Refined Floral Arrangements
Bloom vase by Nordic Rooms is designed for intricate floral arrangements. The brass inserts help hold stems in place making it easy for anyone to create beautiful bouquets. The combination of transparent glass with elegant brass allows the colourful flowers to take the centre stage, and can therefore suit any interior colour scheme.
To start your own flower arrangement with Bloom, simply remove the top brass cover and pour about 2 inches of clean water into the vase. Replace the cover and start arranging the flowers one by one, trimming any thicker stems as needed to insert through the holes. To keep the flowers fresh for longer, replace the water every day and trim the stems. It is a good idea to clean and dry the brass inserts after use.
DIY Lighting Pieces
In addition to functioning as a flower vase, Bloom can just as easily be used as a candle stand. To do this, remove the top brass plate and place a candle directly on the bottom brass insert. Never leave lit candles unattended and keep out of reach of children and pets.
Due to the brass and glass combination, Bloom vases reflect light in the most mesmerising manner. To create a festive centrepiece, consider replacing candles with string or fairy lights – a cluster of vases with fairy lights can be a perfect way to create a beautiful mood in your home.
Functional Decor
The best thing about glass vases is that they are highly practical while being eye-catching. These versatile vessels can be used to keep your kitchen, bathroom and other areas of your home organised.
Fill the vase with lemons or other colourful fruit to create a décor piece for your kitchen or use the vase as an elegant utensil stand to store your wooden spoons and other kitchen essentials.
Use a simple glass vase to store bath salts or make up brushes in the bathroom, or consider creating a seasonal decoration by filling the vase with beautiful Christmas baubles or pine cones. For Halloween, store colourful candy or small decorative pumpkins in the vase, or fill with ice and use as a champagne bottle stand for special celebrations.
Bring Natural Elements into Your Home
We Scandinavians love bringing an element of nature into our home. Whilst many of us have limited space for elaborate gardens, creating a mini home garden can be a more achievable option. Use glass vases to grow plants or herbs in your home; just remember to add pebbles in the bottom of the vase to create air-flow, use good quality soil and water the plant moderately.
Experiment with creating your own terrarium, using small plants and fresh moss that enjoy moist living conditions. Water the plants with a small spray bottle and make sure to pick out any dead leaves to keep the terrarium healthy and happy.
Adorning with Accent Pieces
Glass vases filled with vibrant ornaments, colourful stones, seasonal decorations such as pine cones or sea shells can be used as accent pieces throughout your home. These are economical and easy to move around. They can also add personality to your decor by helping you to showcase your collections.
Looking to buy glass vases online? Explore Nordic Rooms' Bloom vases as well as other collections and shop online: https://www.nordicrooms.com.au/
All Bloom vases comes packed in a beautiful gift box.